REACH OUT BARN NEWS Our Reach Out Barn closed for the season on Monday, September. 30. We will re-open on Monday, May 4. We appreciate all the donations given to the barn this year and all the support from members of our congregation. We will again accept donations beginning in April. As of September 26, the barn brought in $2,899.84 for clients of Love INC. Checks were written totaling $2,133 to help residents in need in Livingston County. We are so blessed and are blessing the lives of so many in our community and county.

MISSION GIVING FOR THE THIRD QUARTER OF 2019
JULY MISSION—Our July mission supported the Red Bird Christian School in the hills of Kentucky. We raised $103.43 to help continue Christian Education to those in need in the area of Beverly, Kentucky.
AUGUST MISSION—Our August mission supported Grace Children's Hospital & Pediatric Clinic in Haiti. We raised $55.65 to help provide care and hope for children and families suffering from TB, HIV/AIDS and chronic illness in Haiti.
PLUMPY NUTS—Our extra giving opportunity for August raised $400! Just imagine how many children we are helping to become healthy again!
SEPTEMBER MISSION—Brighter Future Children Rescue Center in Liberia was our September mission. We raised $183.62 to help this center build better lives for ex-child soldiers, prostitutes, rural teen mothers and poor children.
Speak up for those who cannot speak for themselves, for the rights of all who are destitute. Speak up and judge fairly; defend the rights of the poor and needy. — Proverbs 31:8-9, NIV
---
COMING IN 2020!

We will have a neighborhood library box for donating and/or taking books on the side of the parking lot near the Reach Out Barn! For all our avid readers & the community , this will be something to look forward to!
UPCOMING MONTHLY MISSIONS
OCTOBER—During the month of October, we have two mission opportunities. Our CROP Walk is Sunday, October 6. Our walkers appreciate all the support for this yearly mission. Money raised will be posted on the bulletin board & in the bulletin in upcoming weeks. We are thankful for all our walkers! 25% of the money raised comes back to Livingston County through The Salvation Army, Love INC & Family Impact Center.
Samaritan's Purse (Shoebox shipping)—We are taking donations to go towards shoebox shipping ($7 per box). You may use an envelope in the pews to make a donation to this project. If you are interested in providing supplies, there are lists in the narthex and boxes to collect the items you purchased. If you would rather give money towards supplies, please see Sally or Andrea.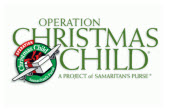 Shoebox packing—Wednesday, November 13—5-9 p.m. Sorting small items in the Education Wing. Thursday, November 14—5-9 p.m. Sorting items in the Fellowship Hall Friday, November 15—5-9 p.m. Wrapping shoeboxes & packing in the fellowship hall. Meal of soup & salad provided. Bring a beverage.
NOVEMBER
We continue to take donations towards shoebox shipping through November 11.
UMCOR—Water, Sanitation & Hygiene is our monthly mission. This supports communities to meet their needs for clean water, sanitation and hygiene around the world.

SALVATION ARMY ANGEL TREE TAGS—These will be
available in mid to late November. Take a tag, buy a gift and bring it back (UNWRAPPED) to the church unwrapped by Wednesday, December 4.
OTHER CHRISTMAS GIVING OPPORTUNITIES INCLUDE:
Livingston County Jail Ministry: Lists will be made available and collection boxes will be in the narthex.
Medilodge Christmas Party: Thursday, December 12, 2 p.m. Plan to attend and join in the fun! We will be providing gifts to those residents who don't have visitors or receive gifts for the holiday. Last year shawl blankets were made & given to residents, along with other items. Gift ideas will be posted and boxes will be provided.
All of these opportunities allow us to show God's love to those in our neighborhood, our country and the world!